(PSPA supports AITC directly with grants.  Ms. Christopher received this year's grant and shared her experiences with the Society at our October meeting.  A summary follows.)
Teaching Agriculture in the Classroom at Lehigh Christian Academy, Allentown, Pennsylvania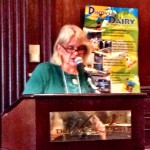 I am so pleased that I attended the Agriculture in the Classroom workshops because it inspired me to use agriculture in my teaching of art to my students. Our 7th grade students will soon be going on a field trip to a horse farm to learn about that. Our 3rd grade students are also studying horses. Our school mascot is a mustang. We have many inner-city children in our school and so our field trip will be an especially valuable experience for them. I have a drawing program where we learn how to develop proportion. The subject we are drawing is horses. Columbus Day is coming up and so our children have been learning that horses were not native to this country but came over from Spain on Columbus's second voyage. He also brought sheep. We have been learning about sheep in our 4th grade class which is studying fiber arts. We have a field trip scheduled with my neighbor who has sheep on his farm. We learned that the first sheep had wool that was like goat hair. Early societies used this for shoes, forming a sole that resembled felt. The children will be making felt in their class.
It is really exciting to use the science of agriculture and combine it with art. I think it is a perfect union. Right now in 5th grade we are studying mushrooms. We are fortunate to have Susan Yocum, a teacher from Kennett Square who worked with a mushroom farmer there to develop a book about mushrooms and we have been studying that. It shows all the different phases of mushroom farming as well as all the different types of mushrooms. We have both the English and Spanish versions of the book in our school. Susan also attended Ag in the Classroom and was so enthusiastic about it that she developed a workshop called "From Spore to Saute" which she presents to other teachers. It includes the various phases of composting so important to mushroom culture. I purchased several types of mushrooms at Wegmans, including the shiitake, Portobello and oyster, and showed them to my class. The kids went crazy. They handled them, dumped the spores out on a sheet of paper and examined the gills. We talked about the radial design of mushrooms and how that applies to art. We drew them in class and also drew some wild mushrooms as well. Each student drew one. We also made up a poem about them:
We gathered porcini,
The brown-capped cremini,
The oyster, shiitake and their friend enoki;
Oh, and portobellos, those big fellows.
On the farm or in the wild,
Mushrooms sure have lots of style.
Big or small, short to tall,
Mushrooms sure are such fun to draw.
Our music teacher is working with the kids to come up with a song to go with this. Our 2nd grade teacher who also participates in Ag in the Classroom plays the guitar so she will provide the accompaniment when the kids sing the song at our assembly. We are also drawing fruits and vegetables, including apples, peppers and pineapples. In 5th grade we are drawing posters showing Pennsylvania's fruits and vegetables. They will feature the themes of Pennsylvania Preferred and buying local at farmers markets.
We are also creating a "My Plate" of nutritious foods, so each kid will draw a still life of that. In 8th grade we are teaching the kids about landscapes conducive to supporting wildlife so they are studying plants that are beneficial in that respect. They are creating a landscape plan that has these plants, habitat and a source of fresh water. They are also learning about wood, the various kinds of trees that provide it and their uses. The kids love these activities because they are not on a computer but actually creating with their hands, which is important.
We are starting a garden club with our enrichment teacher. She has the kids planting gardens. It includes something called "Plant a Row for the Hungry." Each kid plants one row to help people who are hungry in the community. They donate these to the church food bank. It is sponsored by the Garden Writers Association. Along with this the kids are learning how to make compost. In our fiber arts class, we are participating in a program called Wool Works. Through it, the kids can get various kinds of wool from around the world. A local man who is a master weaver donated a spinning wheel to our classroom. This means I have to learn how to spin. They are learning about cotton and silk worms as well. In 3rd grade we are learning about vegetables by asking, "Who grew my soup?" Currently they are learning about corn and the various parts of the corn plant.
Ag in the Classroom has been great for our school and I cannot tell you how much it has enriched my teaching and the learning experiences of our students.