August 5, 2021
Bartram's Garden at 5400 Lindbergh Blvd., Philadelphia, PA 19143
10:30 am – 1:00 pm
From the days of John and William Bartram and Humphry Marshall to Longwood Gardens and the Pennsylvania Horticulture Society, Philadelphia has been a center for horticulture in the United States.  John Bartram and his partners in England helped to revolutionize the English garden with new species from North America.  William Bartram travelled further into the continent including North and South Carolina, Georgia, Florida, Alabama, Mississippi, Louisiana, and Tennessee.  Humphry Marshall, a cousin of the Bartrams is best known for his 1788 publication Arbustrum Americanum, which was the first formal scientific description of trees and shrubs of North America.
Over the centuries, horticulture flourished in the Delaware Valley in the form of public gardens and a thriving horticulture industry.  Horticulture training programs in high schools and colleges grew with many secondary and post-secondary programs.  They, however, are having difficulty attracting interested students these days even though the industry still thrives.
The PSPA's Bartram's Garden field trip in August wove together the past, present and future of horticulture in conservation, human health, community development, and education. Executive Director Maitreyi Roy spoke about Bartram's free public space, serving the community with paid internships, summer camps, and Sanfoka Farm community garden. Matt Rader, President of Pennsylvania Horticultural Society, spoke about PHS's mission to use horticulture as a tool to advance health and wellbeing. Paul Redman, President of Longwood Gardens, described Longwood's role in global plant exploration and conservation and its paid co-op, apprenticeship, internship and fellowship programs for high school, nontraditional students and leaders. Historian Joel Frey led a private garden tour and spoke on the history and impact of Bartram's Garden in Philadelphia and beyond.
PSPA President Scott Sheely organized the program and tied it all together. The Society honored Duncan Allison, a long-time members and former chair with the Medal of the Society.  Lois Davidson was welcomed as the newest member of the Society.  Finally, Mike McGrath who retired recently as Executive Secretary of the Society was recognize for his significant contribution to the organization

Guests attended from the West Goshen Historical Commission, Chadd's Ford Historical Society, Temple University, Pennsylvania State Grange, and Novak Strategic Advisors.   We also had a visit from Humphry Marshall, one of the original members of the Society, whose 300th birthday will be celebrated in 2022.  More to come.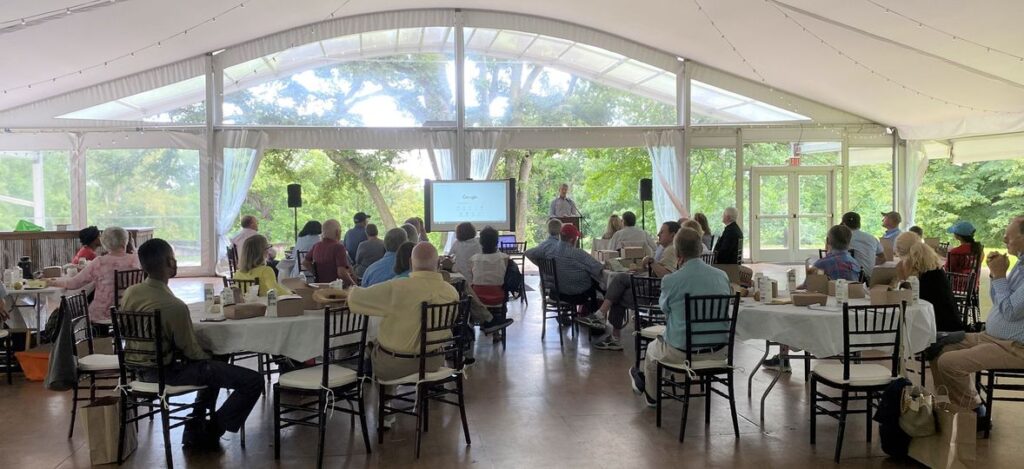 Partners
Bartram's Garden is a historic garden and arboretum in Philadelphia, Pennsylvania. Founded in 1728 by botanist John Bartram (1699–1777), it is the oldest surviving botanical garden in North America. Covering 46 acres (19 ha) with an 8-acre (3.2 ha) arboretum, the garden is near the intersection of 54th Street and Lindbergh Boulevard on the west bank of the Schuylkill River.
Its John Bowman Bartram Special Collections Library contains a vast collection of documents and materials related to the history of the Garden, the history of Philadelphia, and the development of the field of botany. The non-profit John Bartram Association operates the Garden in cooperation with the Philadelphia Department of Parks & Recreation. It was designated a National Historic Landmark in 1960.
Longwood Gardens is an American botanical garden. It consists of over 1,077 acres (436 hectares; 4.36 km²) of gardens, woodlands, and meadows in Kennett Square, Pennsylvania, United States in the Brandywine Creek Valley. It is one of the premier horticultural display gardens in the United States and is open to visitors year-round to enjoy native and exotic plants and horticulture (both indoor and outdoor), events and performances, seasonal and themed attractions, as well as educational lectures, courses, and workshops.
Today the 1,077-acre Longwood Gardens consists of varied outdoor gardens, ranging from formal to naturalistic in their landscape design, and 20 indoor gardens within a 4.5 acre (1.8 hectares) group of heated greenhouses. Longwood's Conservatory contains 4,600 different types of plants and trees, as well as fountains. The Gardens also has extensive educational programs including a tuition-free two-year school of professional horticulture, a graduate program, and extensive internships. It hosts hundreds of horticultural and performing arts events each year, from flower shows, gardening demonstrations, courses, and children's programs to concerts, organ and carillon recitals, musical theatre, fountain shows, and fireworks displays. It also hosts an extensive Christmas light display during the holiday season.
The Pennsylvania Horticulture Society uses horticulture to advance the health and well-being of the Greater Philadelphia Region.  As an organization, it believes in the power of horticulture to make positive social and environmental change. As a community, we invest our time, passion, money, and gardens in our cause.
PHS was founded in 1827. The PHS Philadelphia Flower Show sponsored by PHS is the nation's largest and longest-running horticultural event and features stunning displays by the world's premier floral and landscape designers.
While many things have changed for us over time, our main focus has not wavered.
In 2019, PHS adopted Vision 2027, a new strategy that fully commits PHS to using horticulture to advance the health and well-being of the Greater Philadelphia region. Driven by a diverse community of more than 300,000 supporters, volunteers, and gardeners, PHS uses all its activities to advance four impact priorities:
Creating healthy living environments
Increasing access to fresh food
Expanding economic opportunity
Building meaningful social connections
The Philadelphia Society for Promoting Agriculture is America's oldest continually operating society to promote agricultural innovation. This organization promotes progressive, productive and sustainable agriculture through monthly online presentations, luncheon meetings and field trips to farms, universities and research institutions. The membership includes large and small farmers, government and academic staff and ag-related businesses.
Visit our website at http://pspaonline.com/